Hey Farmers!
Tree Groves Are Here! Groves make your Orchards even better! Get bonus mastery & coins on your Orchards! Build one today!
Note
: If you don't place it immediately on your farm, you can find it in your giftbox. If you do not automatically receive a Grove, you can purchase one from the "Buildings" section of the Market for 5 coins. You can also purchase a completed Grove for 30 Farm Cash. You must be level 5 before you can use the Grove.
Click HERE for the Request links!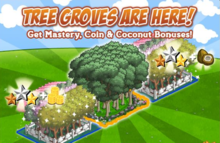 Placing the Grove
A green illumination around the Gnome Garden will glow over open placement areas on your farm.
Once placed on your Farm, you will have the following options:
Look inside - View your progress
Complete now - Pay Farm Cash to complete your Grove
Apply Instant Grow - Pay Farm Cash to instantly have trees ready for harvest
Move - Rearrange Grove on your farm
Sell - Sell your grove
Looking Inside
Selecting "Look Inside" will open up the building Menu. The building Menu will show you how many parts you will need to complete the Grove. Until you finish building the Grove, you will be unable to store trees and activate bonuses.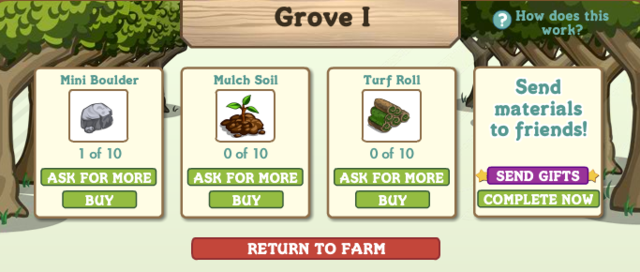 There are 3 ways of obtaining the Materials you need to complete your Grove:
Ask for More – Send requests for Materials to your friends and Neighbors
Buy Materials – Buy Materials directly from the Market/Grove Menu
Feeds – Click on your applicable friends feeds to claim Materials
Once you have collected 10 Mini Boulder, 10 Mulch Soil, and 10 Turf Roll, you will receive the following pop up:
Clicking the "Share" button on this pop-up will post a feed to your wall.
You may have as many Groves on each of your Farms. (Home Farm, English Countryside, Lighthouse Cove, Hawaiian Paradise, Winter Wonderland, and Hawaiian Paradise).
Using the Grove
Groves act the same way as Orchards. It stores up to 20 trees and takes 2 days for Groves to be ready to harvest. They also give mystery seedlings and watering cans after each harvest. But there's more to it….
When you cursor over a completed Grove, 2 blue footprints appear next the Grove. These blue squares are special areas. When you place an Orchard in one of the blue special areas, bonuses will be applied to the trees in the Orchard. These bonuses will increase Tree Mastery Points by 100% and increase Coconut and Coin yields by 15%! And that's not all! You can stack multiple blue special areas on top of Orchards to up the percent bonuses. Strategize well and you may be able to increase Mastery Points by 400%. WOW!
Remember, 1 Grove has 2 special areas, which means it can enhance 2 Orchards.
NOTE: The blue special areas can only be applied on Orchards, NOT on Groves.
There are 2 types of Groves
Grove I: A Grove that has orchard special areas placed in ascending fashion
Grove II: A Grove that has orchard special areas placed in descending fashion
NOTE:
You can only build one of each type of Grove at a time. So in order to get a second Grove I, you must complete the first one.

To see how the blue special areas affects your Orchard, mouse over Orchard. You will get a pop up to see how many extra Mastery Points, Coconuts and Coins you'll get. In the picture below, an Orchard has been enhanced by TWO Groves, so trees will get 200% more Mastery Points, 30% more Coconuts and 30% more Coins when ready to harvest.
How to Activate the Bonuses
Bonuses will be applied AFTER moving an Orchard into the blue special areas and AFTER harvesting the Orchard. Harvest-ready orchards moved into the special areas will not receive bonus. You will need to allow one harvest cycle to pass in order to activate the bonuses—Bonuses will be applied on the second harvest. To see if the bonuses have been applied, you'll get the following message (see image below).
If you add a new tree to an Orchard that has been placed on a blue special area, the bonuses will be applied to the new tree upon the next harvest, regardless of harvest percentage.
Surprise....?
If you finish completing your first grove, you'll get a second already-completed Grove for FREE!!! That's right farmers! Build your first Grove without paying now and FarmVille will hook you up with a second Grove.
How to maximize Groves and Orcahrds
Put trees that you already mastered in Groves
Put trees that you are trying to master in Orchards
Source:
Official Zynga Forums!